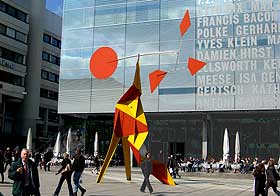 Alexander Calder,
Crinkly avec disque rouge, 1973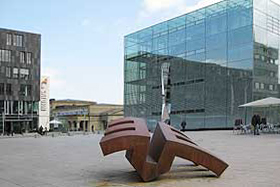 Werner Pokorny,


Haus mit durchbrochen Rippen, 2004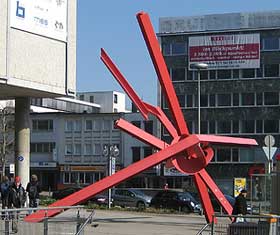 Mark di Suvero, Lobotchevsky, 1987/88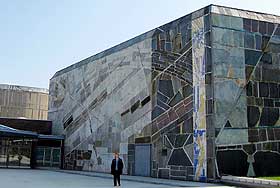 Blasius Spreng, Mosaik-Fassade, 1956, S-Mitte, Liederhalle


Details

Stuttgart

More than 150 sculptures in the city and in suburbs

Four routes describe tours in different districts, starting in:
Stuttgart - Center (Mitte)
(Route 1)



A very recommendable book:


Bärbel Küster: Skulpturen des
20. Jahrhunderts in Stuttgart


Link + Information: www.stuttgart.de


Photos: ehauff / 2003 - 2013

State: 05/2013

Directions:
You'll reach Stuttgart via the A 8/A 81



For disabled:
In the center, there are different street coverings, sometimes cobbled. Many sculptures are displayed in parks, e. g. near the university.
Downtown area is plane but closely surrounded by slopy hills. A long lasting construction site started in 2010. Car drivers should use car parks in the suburbs and take the U-Bahn and S-Bahn.

Wheelchair drivers might need help evereywhere.



new: Ways to Art
in different districts


+

Photo-Series

Route 2: northern districts
Mitte, Stadtgarten, Nord, Feuerbach, Botnang

Route 3: western districts
S-West, Hajek Skulpturenpark

Route 4: S-Vaihingen

Route 5: eastern districts
S-Ost, S- Wangen, S-Bad Cannstatt

Route 6: S-Ost + S-Degerloch



new: Works by
Otto Herbert Hajek

Photos in higher resolution:
Wikimedia Commons




Bärbel Küster, "Skulpturen des 20. Jahrhunderts
in Stuttgart"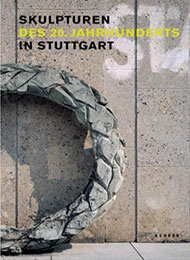 Stuttgarter Zeitung:


Kunst im öffentlichen Raum